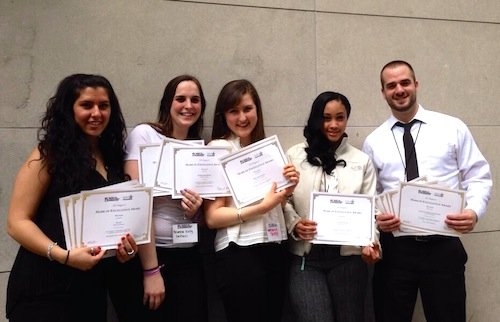 Launch DePaul Awards Night 2014 – At the Launch DePaul Awards Event on May 21, six final teams pitched their new, creative ventures to a judging panel comprised of four distinguished entrepreneurs from the Chicago business community.
They were competing for a prize pool of $10,000. Audience members also contributed to the final team scores by casting their votes with blue chips in the respective teams' boxes.
Joining us as VIP judges were Michael Arndt, Editor of Crain's Chicago Business; John Hoesley, Managing Director of Silicon Valley Bank;
Suzanne Reade, President of Chicago ArchAngels; and Shawn Riegsecker, Founder and CEO of Centro. Jason Jacobsohn, Chicago Director of Founder Institute, served as our Honorary Emcee.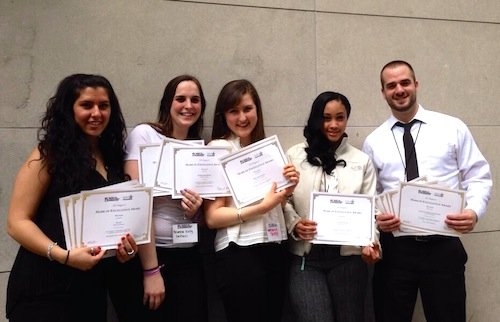 The winners of the competition placed as follows:
First Place ($5,000): PlanMatcher (online healthcare exchange), Christian Wells
Second Place ($2,500): Making Connections (autism therapy toolkits), Elizabeth Ames
Third Place ($1,000): Bbands (non-slip headband production), Bianca Perry
Honorable Mentions ($500 each):
Felicks, (student-to-student online exchange), Shaza Loutfi
Hashtagr (hashtag search engine), Khoa Nguyen
Jam City, (online platform for musical instruction and collaboration), Ian Stellmach
All winners also received Elance credits to hire freelance talent for their new companies.
Click here to see photos from the Launch DePaul Awards Night 2014. (Photos taken by Kathy Hillegonds.)
Thank You!
We gratefully acknowledge the contributions of the many individuals and organizations who have made Launch DePaul 2014 possible.
From those who contributed their time and efforts in the months leading up to the competition, to those who played active roles in the Awards Night event, our efforts would not have been possible without their support.
Launch DePaul Sponsors
Kutchins, Robbins & Diamond, Ltd. and Allen Kutchins
QUEsocial and Greg Silich
Elance and Kyle Joseph
Reception Wine
CaliVista Wines and David Kalainoff
Launch DePaul Judges
Our thanks to these individuals who served as our first-round judges for Launch DePaul 2014. They reviewed dozens of submissions, and offered valuable feedback to every team that entered the competition.
Bob Achettu
Brian Bauer
G. Deon Bradley
Mason Cole
Tim Cole
Neil Feuling
Glenn Gottfried
Bill Griffin
Aksh Gupta
Marc Grens
Lori Igleski
Jason Jacobsohn
Greg Jaros
Kyle Joseph
Teddy Kekstadt
Ron Kirschner
April Lane
John Lump
Tricia Meyer
Tony Mirchandani
RJ Pahura
Mona Pearl
Matt Ragas
Brian Rosen
Greg Silich
Jared Steffes
Kevin Turner
Alex White
Drew Whiting
Launch DePaul Coaching Workshop Leaders
Rania El-Sorrogy, Executive Director, Hatch Valley
Leo Friedman, CEO & Founder, iPromo
Scott Issen, President and CEO, Future Founders Foundation
Brian Bauer, Startup Leadership Program Chicago
Sion Owen, PitchCircus
Libo (Bob) Hou, School of Accountancy, DePaul University
DePaul Entrepreneurship Faculty
Raman Chadha
Daniel Gillespie, JD
Lisa Gundry, PhD
Laurie LaMantia
Terri Lonier, PhD
John Lump
Javier Monllor, PhD
Patrick J. Murphy, PhD
Edward Papabathini
Remo Picchietti
Sondra Simpson, EdD
Harold Welsch, PhD…