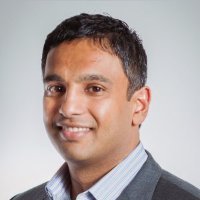 Alumni Profile: Bob Achettu – Most entrepreneurial journeys follow a winding path, and Bob Achettu's route to Founder and Managing Partner of Accelerated Growth Advisors is no different. 
After spending the first decade of his career at some of the largest organizations in the world, a role in the world of private equity transformed his view of what he wanted to do with his life. 
Bob and his team now spend their days on the front lines of Chicago's vibrant entrepreneurial scene, working to help companies manage through various stages of growth. 
A graduate of DePaul's College of Commerce (now known as the Driehaus College of Business), he is a true believer in the servant leadership philosophy espoused by the University.
Can you explain what your business does?
Accelerated Growth Advisors (AGA) helps entrepreneurial companies build strategic, financial, and operational infrastructure to scale. 
We've found that early on (the first several million in revenue) startups often focus heavily on building products and driving sales. 
They often don't spend the time and resources needed to build a strong foundation in other parts of their business. 
AGA works with companies as they move into their second stage of growth (typically $3-$100 million in revenue). 
We ensure that these organizations have the right foundation for long-term success.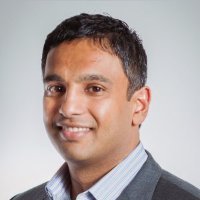 What do you enjoy most about being an entrepreneur?
Entrepreneurship means different things to different people. 
For me, it means freedom of thought.  I have the ability to think through and execute any idea, and the flexibility to allow my team to do the same. 
I don't believe you need to be the founder of a company to be entrepreneurial. 
It's about having the courage to think freely, and to be OK with, and in fact embrace, failure. 
Having worked in organizations of many sizes, my perspective is that professional development tends to occur faster and deeper at smaller companies. 
You are constantly put in situations where you are challenged and must think creatively.  You spend most of your time outside your comfort zone. 
I know, because I do every day.  Having worked for several global "blue-chip" advisory firms in the past, it gives me great pride knowing AGA provides a better learning environment for my team than companies a thousand times our size. 
That's a good feeling as an entrepreneur.
How did your DePaul experience impact your career?
Like many DePaul students, I was a commuter and worked quite a bit during my years at the University. 
At the time, it was frustrating that I was not able to have the "typical" college experience. 
I look back now, and am grateful for the path I took. 
The core relationships I built during my time at DePaul still last to this day. 
The time management skills I learned juggling priorities became a crucial component of managing both my professional and personal life. 
Interestingly, my relationship with DePaul actually got stronger after starting my company five years ago. 
I began connecting with the Coleman Entrepreneurship Center and have built many great, new DePaul connections along the way.
What advice do you have for student entrepreneurs?
At AGA, we partner with some of the most accomplished entrepreneurs and investors in Chicago. 
We are also a high-growth company ourselves. 
There is a lot of learning that happens in between, so it's hard to crystalize those experiences into one piece of advice. 
That being said, I'll try for two:  1) Things move fast in entrepreneurial environment and there are many highs and lows. 
You shouldn't bask too much in your successes, or harp too much on your failures.  Learn, adapt, and move on quickly. 
2) No matter what your service or product, all organizations big and small are about people. 
Focus first and foremost on selecting and developing the right people.  If you've got that component right, everything else will fall into place.…